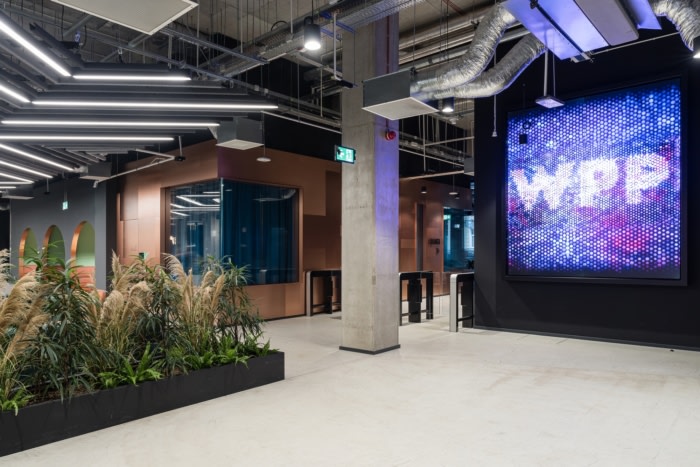 Trzop Architekci drew on a trendy sophistication to create a playful and professional office for WPP in Warsaw, Poland.
WPP creative transformation company – today is a global leader in communications, experience, commerce and technology. The company is headquartered in Campus located at Koneser Square in Warsaw's Praga district. As Trzop Architekci we were the authors of the detailed design developed on the basis of and in cooperation with BGD, an English company from London. The project comprises approximately 9,000 m2 of space on the first floor and 5 storeys. The first floor is also accessible from Koneser Square, where the canteen "3 cups" has been arranged, which can also be used by tourists or strollers.

General conceptual assumptions were to divide the building into 2 parts and so in one part of the building the idea was to:

1. The SEED – a place where ideas generated are created. Just like planting a seed is the beginning of the new, creative thinking is the beginning of great ideas. That's why the first floor has been furnished with differentiated spaces to stimulate the mind to help germinate new thoughts.

2. GROWTH an idea – like a seed – once planted goes through stages of development. Becoming stronger and more defined, it reaches a fruitful stage where it flourishes. This evolution contributes to the final, unique product.

3. PILOTING The final product is ready to be shared with the entire world. Just as pollination is the act of transferring and creating the new for future generations, the top floor business center is a platform for knowledge transfer through presentations and events. Here, the final product is presented, impacting the surrounding world and raising the profile of the business for future generations.

The second part of the building was based in reference to the site i.e. on the assumptions:

1. Raw ingredients The distilling process also begins with nature, with the cultivation of grains and herbs that make fermentation possible. Raw materials – meeting new customers, brainstorming and creative meetings are combined to start brewing new ideas.

2. Production To support the development process, working ideas, like a distillery, are split into different flows, developing and refining before reaching a solution. Here, quiet work, development and meetings are encouraged. Copper and concrete from the production line are subtly translated into architectural elements.

3. Bottling Showing any results in the best possible light is critical, including communicating new products and marketing information to customers. At Level 5, the architectural elements culminate with those found in the distilling process and encapsulated in glass as the material used to beautifully present the final product.

The above assumptions provoked the use of materials and colors closely related to the idea. A large amount of green natural materials derived from nature, a play on color through the use of manufactured materials such as concrete, copper and glass.
Design: Trzop Architekci
Photography: Fotomohito
The post WPP Offices – Warsaw appeared first on Office Snapshots.