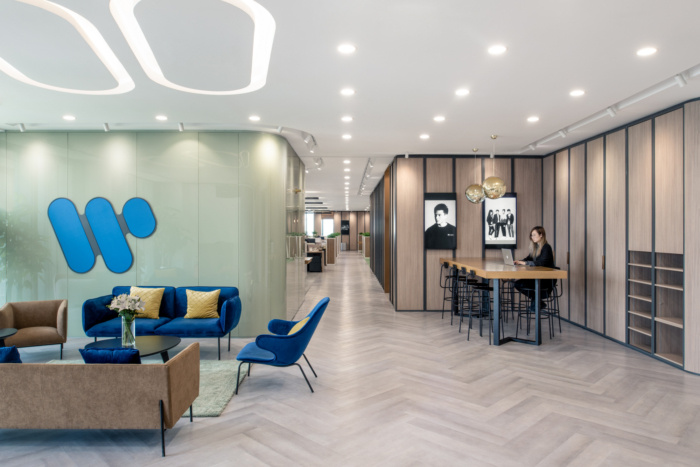 Bean Buro was tasked with designing an innovative workplace to meet the unique needs of Warner Music in the heart of a growing business district of Beijing, China
The open plan work neighbourhood is conceptualised as a 'courtyard', enclosed by supporting amenities in its backdrop and the building's glass facade with city views and natural daylight. We wanted to create an intuitive and sociable workplace for music-related activities. We put together a colourful and elegant materials palette that feels dynamic but mature and elite. The idea was to create a sense of neighbourhood as a 'courtyard', enclosed by large windows out to the city views with supporting functions in a warm timber backdrop.

This project embraces a woven material palette that incorporates various use of materials such as timber, brushed copper highlights, and herringbone-patterned timber vinyl, which are drawn from the textures of traditional Chinese instruments. Acoustic concerns play a big role in the project. The predominant use of wood and exotic choices of materials bring the office warmth and life, while the use of concrete and green vinyl flooring define the areas in the office.
Design: Bean Buro
Contractor: A.I.D. Limited
Photography: Shawn Koh/Feng Studios
The post Warner Music Offices – Beijing appeared first on Office Snapshots.