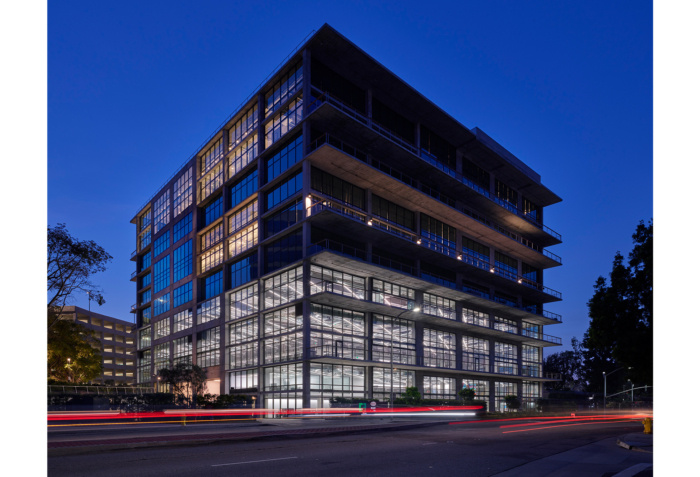 Gensler has achieved the office design of TikTok, the global video-sharing social networking service, located in Los Angeles, California.
TikTok, the leading destination for short-form mobile video, enlisted Gensler to create a new home for their highly collaborative and creative workforce, influencers, and community. With a Class-A speculative office building set, the project team set out to design a workplace encompassing 120,000 square feet across five floors. The new space embodies TikTok's ethos for community, inclusivity and joy while cementing the growing entertainment and technology company's presence in the U.S. and its commitment to Los Angeles.

The heart of the plan is the café, both welcoming and operationally functional to serve lunch and dinner daily. The café is the social hub buzzing with activity; oversized booths, large communal bleacher seating for community forums, and a multitude of seating arrangements to support any type of function or event.

The minimalist design of the 2,250 square-foot, first floor lobby makes for an adaptable venue within the workplace — perfect for events, launches, gallery openings and more to engage TikTok's various communities. A centerpiece 80' foot-long tech wall is a billboard visible to passersby and a canvas for TikTok's community to display creations.

With a horizontal leadership structure, private offices were not a key factor in the plan. Private workspaces for individual reflection or focused work are built around shared communal team spaces. Staff can seamlessly flow from café to lounge, conference room to workstation, or to collaboration hubs. Three sizes of meeting spaces are available, including a double-height conference room, which open to large community spaces. A five-floor, interconnecting pink stair was designed to provide vertical connectivity and communication across five levels.

Colorful murals throughout inspire and bring the magic of TikTok to life. A lighting installation across the ceiling in the café displays a map of Los Angeles as a nod to its new hometown. This artistic localization continues throughout the space in the form of painted murals, electronic kinetic LED walls, and 3D sculptures curated by local artists.
Design: Gensler
Contractor: Swinerton Builders
Photography: Benny Chan
The post TikTok Offices – Los Angeles appeared first on Office Snapshots.