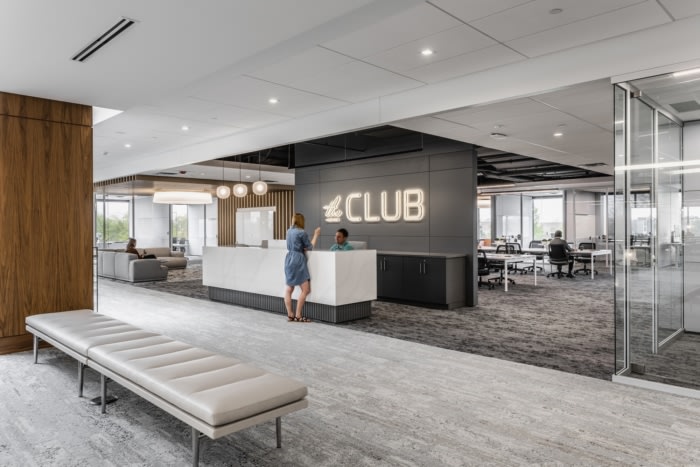 Office Designs
The Club Coworking Offices at Crosspoint – Fishers
|
August 2, 2022
DELV Design completed the Club Coworking Offices at Crosspoint with various options for work in Fishers, Indiana.
Gritty coworking spaces geared towards launching entrepreneurs or solopreneurs have existed for years in the marketplace; yet following the pandemic, Indianapolis-grown software company Knowledge Services observed a new need and a new opportunity. Desiring to revitalize a 4-story, years-dormant grocer headquarters, Knowledge Services moved their own offices into the building. With 35,000 additional square feet at their disposal on the second floor, they tasked DELV to imagine a coworking space for individuals and teams who now make up the immensely expanded hybrid workforce.

In a deep dive of market research, we identified potential user personas, studied the existing landscape of coworking spaces in the nearby area, and began to define the characteristics—both physical and contextual—that would set their venue apart from its counterparts. The space, now named "The Club," is a curated and exclusive third place in Fishers that is both a high-end work venue and a social club.

When determining the venue's programmatic components, the design sought to create a mix of three key workstyles:

1. A hot desk for the individual who needs a home base that's not home; one that can flex and adapt to their shifting needs from focus to social.
2. An executive suite for the individual who's seeking to redefine the work/home boundary that became blurry in the pandemic; one that's professional and offers a high level of control.
3. A team suite for the company that needs to create a new 'micro-office' atmosphere for one or more of their teams; one that's secure and well-resourced, connecting them to a community in lieu of a stand-alone company culture.

When stepping off the elevators, members are immediately greeted by a simple, quartz-encased reception desk beneath the soft glow of their brand signage; creating an understated, yet sophisticated welcome. The expansive views throughout democratize access to natural daylight and nature by electing glazing over traditional drywall for enclosing interior spaces. A soft color palette paired with vignettes of plush furnishings, infused white noise, and aromatics create a perfect sensory mix for doing your best work.

The Club's design intentionally offers individuals more agency over their environment. Eighty-eight private office suites of varying sizes are currently spread throughout the floor; each equipped with a whiteboard, ergonomic Knoll chairs, and sit-stand desks for choice in posture. Additionally, hot-desking 'neighborhoods,' private phone rooms, a podcast room, fitness desks, and multiple hybrid-enabled meeting spaces are intermixed throughout the floor giving individuals a robust selection of work styles to cater to their specific needs. All levels of privacy were considered in the design.

Near the back of The Club sits a large social hub, dubbed "The Lounge." Simple flooring choices paired with a familiar wood-slatted ceiling and pendant lighting let the vertical gloss-to-matte tile make a statement. Members can grab complimentary beverages and snacks throughout the day, including a rotating selection of wine, beer, and seltzer on tap. Wrapped in the same waterfall quartz as the reception desk, the central island provides ample space to host club-wide events or afternoon happy hours, creating a catalyst for networking and building community. The concierge perks and amenities for members go beyond food and libations with on-site IT and dry-cleaning services, a state-of-the-art fitness area, a rec room, and 300-person auditorium for large event hosting.
Design: DELV Design
Photography: Kendall McQuay | The Addison Group Photography
The post The Club Coworking Offices at Crosspoint – Fishers appeared first on Office Snapshots.