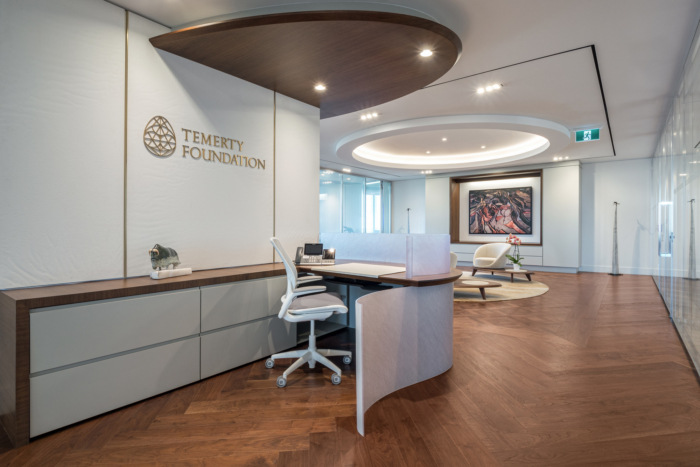 Office Designs
Temerty Foundation Offices – Toronto
|
October 20, 2020
Bullock + Wood Design Inc. recently achieved the office design for the Temerty Foundation, an education advancement charity, located in Toronto, Canada.
For James Temerty, recipient of Ernst and Young's 2010 "Entrepreneur of the Year Award" and founder of the Temerty Foundation, making the world a better place required a new professional workplace. A common space to bring the family together to focus on their philanthropy efforts and to provide an environment for future entrepreneurs to launch their breakthrough technology.

A need for balance between the family's classic style and contrasting contemporary influences lead the office to an elegant design with modern sophistication which showcases their love affair for the arts.

Unifor's modern architectural glass partitions visually extend the grandeur perimeters of the intimate greeting area, welcoming guests from the elevator into the Temerty Foundation. A flood of natural light and picturesque views are seen from the adjacent exterior conference room, defining space with electrified glass when privacy is paramount. A custom burnt-orange velvet settee sits atop a hand-tufted area rug to provide a strong focal point, mimicking the circular ceiling, while providing contrast to the neutral palette chosen to highlight the Foundation's complex art collection. Hardwood floors with argyle and herringbone patterns provide warmth and sophistication that compliment two Bernhardt Lilypad chairs and accentuated wood frame for the Burtynsky original piece of art.

With Temerty's success in renewable energy, the lighting sculpture above the conference table, framed with curved-walnut slats, plays on "Newton's cradle"; a device that teaches the principles of physics by demonstrating momentum and energy through a series of swinging spheres. Below, a custom table mirroring the ceiling above yet using a reversed-curve, features a unique porcelain inset with textures of windblown grains that resemble a Zen sand-garden.

An inviting Espresso nook is a bright and airy pocket that allows time to dive into a book amongst the views of the cityscape with a mixture of textures in the contrasting floor and wall tiles; reflective surfaces, wire-framed furniture and detailed lighting. The built-in millwork continues a consistent theme throughout the office with shop finished smooth surfaces, warm walnut wood, textural ivory stone and brass u-channels that are inlaid like jewelry.

Private offices support each family member's individual requirements and different workstyles, and Teknion's sit-to-stand desks with integrated work-walls and Chloe's polished aluminum frame guest seating provide a balance between ergonomics and elegance. Large open spaces were designed for the flexibility to support start-up entrepreneurs who receive funding to research and develop their product or service before launching into their own space.

This new workplace is more of a showroom-esque office where every detail has been analyzed and refined to provide a balance between functionality and design.
Design: Bullock + Wood Design Inc.
Design Team: Donna Wood and Angela Kisielewski
Contractor: Gillanders Construction
Photography: Joaquim Santos
The post Temerty Foundation Offices – Toronto appeared first on Office Snapshots.