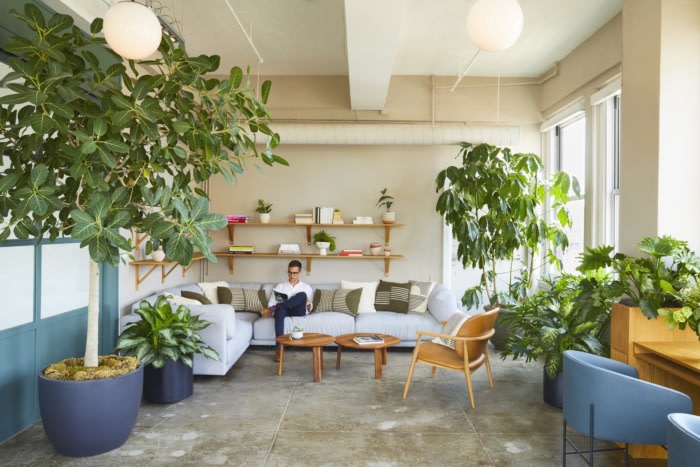 Office Designs
ROOM Showroom and Offices – New York City
|
January 28, 2022
The ROOM design team designed a sophisticated space that showcases their brand capabilities at their showroom and offices in New York City, New York.
ROOM is a company that makes modular architecture for the workplace. Making it easy for companies to build workspaces that stimulate creativity, increase productivity, and spark collaboration between people.

Employees today want more flexibility, autonomy, and the ability to choose when and where they work. An effective pathway toward choice is a workplace that includes plenty of variety and freedom. The best environments provide for all kinds of work including focus, collaboration, learning and socializing. Our workspace offers a landscape of space types that embraces individuality and diversity.

Our dynamic office offers a better way of working by creating an ecosystem of spaces integrating places, people and technology. The lobby is an active lobby with seating options. The "coffee shop" is the perfect place to create deeper human connections. The open collaborative spaces outside of the meeting rooms offer the perfect warm-up/ cool down area to prepare before a meeting. ROOM Phone Booths across the space offer privacy as they are completely soundproof. The Meeting ROOM is the perfect purpose built ROOM for a meeting for 2-4 people that comes with VC technology, ventilation and light controls.

The team areas are designated by team and offer a desk and personal lockers. The library is a shared quiet space designed to offer an ideal place to focus for longer periods of time without distractions.
Design: ROOM Design Team
Photography: Yoshi Makino
The post ROOM Showroom and Offices – New York City appeared first on Office Snapshots.