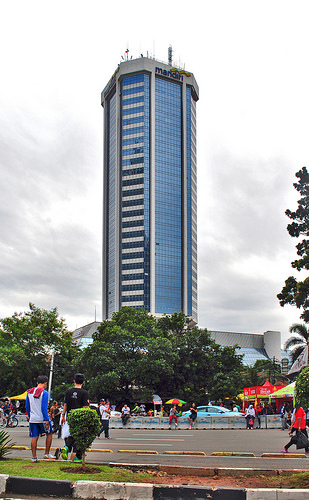 Plaza Bumi Daya


Image by Ya, saya inBaliTimur
Expanded 17 August 2018, with Panoramio link deleted
Plaza Bumi Daya
Head office of Bank Bumi Daya between 1983-1998, and now one of 4 major Bank Mandiri offices in Jakarta. Designed by RDC Architects of Singapore and constructed by Getraco Utama from December 1978 to 1983, 32 floors, 132 metres. The building, thought was more international in style, was target of criticism by iconic local architect Frederich Silaban, calling the building, especially its wide podium, "illogical" and "coffin that never protects its occupants from rain and heat" in a conversation with Tempo weekly magazine published on 22 October 1982. Formerly it was brown-clad, much like buildings built in Bogota, Colombia until late 90s.
Plaza Bumi Daya
Seen from Jalan MH Thamrin.
Plaza Bumi Daya
Kantor pusat Bank Bumi Daya 1983-1998, sekarang menjadi kantor Bank Mandiri. Dibangun dari medio Desember 1978 dan selesai pada 1983, 32 lantai, tinggi 132 meter. Didesain oleh RDC Architects dari Singapura dan dibangun oleh Getraco Utama. Awalnya berwarna cokelat seperti gedung-gedung di era yang sama di Kolombia hingga akhir 90an, gedung ini sempat dikritik arsitek legendaris Indonesia Frederich Silaban karena, terutama di podiumnya yang lebar, dianggap "tidak logis, seperti peti mati, dan tidak melindungi penggunanya dari hujan dan panas", dalam sebuah wawancara dengan mingguan Tempo yang terbit pada 22 Oktober 1982.
Lokasi foto Jalan MH Thamrin.
Sumber: Konstruksi, Mei 1979 dan Tempo, 22 Oktober 1982 via Komunitas Silaban Brotherhood