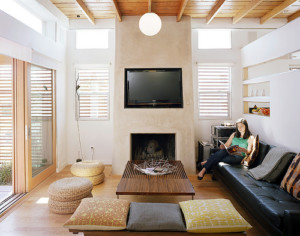 Passive Daylighting


Image by Jeremy Levine Design
In our quest to lower the carbon footprint of this house, we reduced our need for artificial lighting during the day. Interior clerestory and transom windows allow the rooms to 'borrow' light from each other.
Passive Daylighting
Project: 3 Trees
Location: Eagle Rock, California
Description: Addition and remodel to a residence. The house was built around three trees. The project includes: grey water recycling, storm water capture, recycled coal fly ash concrete, solar energy, recycled lumber, passive cooling, thermal rock wall, and mobile shade panels.
Passive Daylighting
jeremy levine design
<a href="http://www.jeremylevin
Passive Daylighting
Photographer: Tom Fowlkes