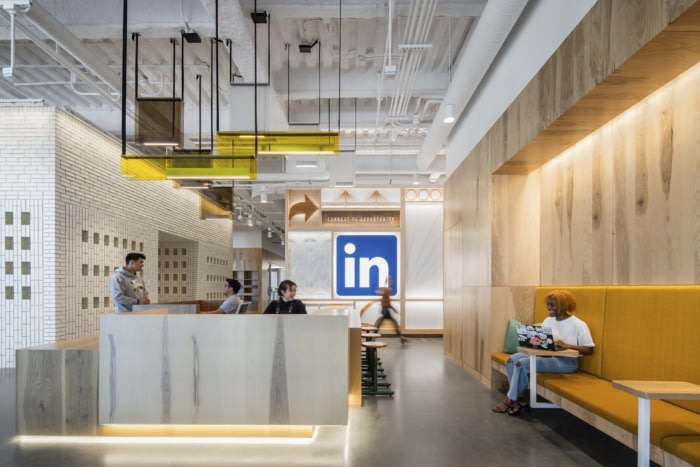 Gensler formed a balance of industrial and chic drawing on the ample natural light to complete the LinkedIn offices in Omaha, Nebraska.
LinkedIn's new Omaha headquarters is an innovative workplace of the future. The 200,000 sf fully dynamic environment reflects their future of workplace vision designed for an enhanced employee experience, a resilient future, and community connection.

This new facility replaced a legacy office where now teams are assigned to "neighborhoods" with variety of work settings, from those supporting individual focus and privacy to spaces for small-group collaboration and brainstorming. Between neighborhoods, areas called "railcars" provide individual and team storage, impromptu team space, enclosed meeting rooms, and phone booths. These spaces serve as welcoming front doors to each neighborhood, providing an orientation point, and a cultural heart for team tchotchkes.

Sustainability was a top priority for the new office. The building has 2 Star Fitwell and LEED Gold Certifications. It includes features such as light sensors, advanced mechanical systems, and an all-electric kitchen need 24% less energy than typical technologies. It is LinkedIn's first site to incorporate on-site energy storage. 38.4% of the building's power comes from renewable energy sources with an additional 13.1% from on-site solar PV array, including Solar Canopies over parking spaces. Electric-vehicle-charging is provided at 2% of the parking spaces used for this workplace with 20 EV charging stalls in addition to the 50 priority spaces designated for hybrid and electric vehicles. 52% of the wood used was reclaimed (50,000 SF reclaimed wood across the project) and the remaining wood certified by Forest Stewardship Council (46,000 SF FSC wood across the project). 100% of the paints, coatings, adhesives, sealants, ceiling, flooring, and composite wood have no or very low VOC content and emissions. 70% of all furniture was designed and manufactured in the US. Water use has been reduced by 35% with high efficiency plumbing fixtures. 100% of the waste materials have a dedicated collection, including e-waste which is saved and recycled.

LinkedIn promotes green building education on-site through 48 educational plaques. The space promotes movement and exercise with a new wellness and fitness center, center stairwell activated graphically and with motivational messaging to encourage use of stairs. There is a roof deck for outdoor access and employees can walk or bike to at least 10 different activities within 3 miles.

It was important to represent and include all employees and users within the design. Social justice and minority focused EGD / Brand stories were developed through employees' feedback and design input and employee representation was included in the reception EGD / Brand installation. Their Employee Resource Group installations celebrate employees and allow each to post and share content, awards, photos, and announcements as well as community led EGD stories and community art program. There are also Respite Rooms to support neurodiversity. InCommon is the ground floor community event space to engage local business and community leaders. The community wall acts as a never-ending source to share and receive inspiration. There are 3 dango sculptures by a local ceramicist to welcome people and developed a sculpture between the two buildings to celebrate the LinkedIn and Omaha community.
Design: Gensler
Photography: Jason O'Rear
The post LinkedIn Offices – Omaha appeared first on Office Snapshots.