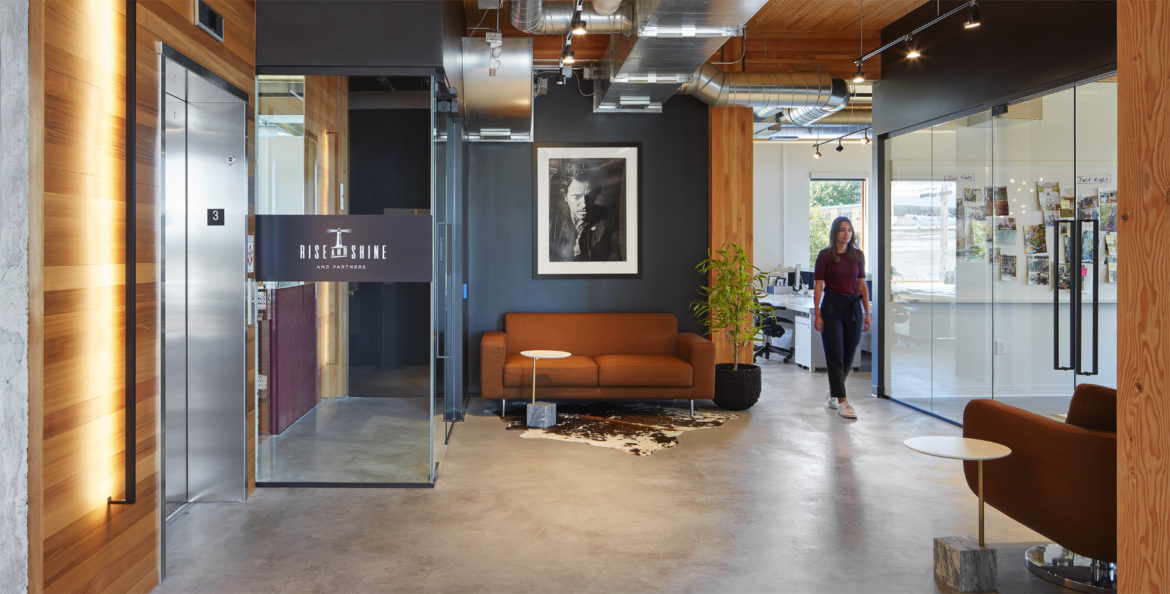 Advertising and marketing company Rise and Shine hired architecture interior design firm Studio BV to design their new office in Minneapolis, Minnesota.
"The new office supports a new way to work and prioritizes what is most essential about work," says Kevin DiLorenzo, Rise and Shine and Partners President/CEO. "We made a strategic decision to move to a Minneapolis neighborhood near the lakes and remake what our office could be."  The new office is in a new timber structure that is full of texture and simplicity and the new office operates like a home. The anchor of the space is a large kitchen gathering space that is connected to a roof top deck. The deck has views of the neighborhood and their favorite ice cream shop downstairs.  That favorite local ice cream maker even created a new flavor for them called Rise & Shine!

The new office features a signature light in the main conference room, visible from the stairs, elevator and entry.  The use of color and contrast creates intimacy and definition throughout the space.  The light options are metaphors for the lighthouse and the beacon that welcomes the team everyday to the space and to the place of creativity in the meeting room.

The new office features concrete floors, wood architecture, and glass.  The intervening design work focuses on saturation as a point of contrast to the warm ceiling and wood columns.  This contrast in color is seen in the interior walls that contrast with the white perimeter walls.  The color creates definition and drama in the space.

"Our new space embraces new world realities," says DiLorenzo. "We call it 'the Hive,' because it has great energy and people can buzz in and out as needed. Our people have demonstrated a great ability to work from anywhere, but we still crave opportunities to connect and collaborate in person."
Location: Minneapolis, Minnesota
Date completed: May 2021
Size: 6,000 square feet
Design: Studio BV
Photos: Corey Gaffer
The post Inside Rise and Shine's New Minneapolis Office appeared first on Officelovin'.