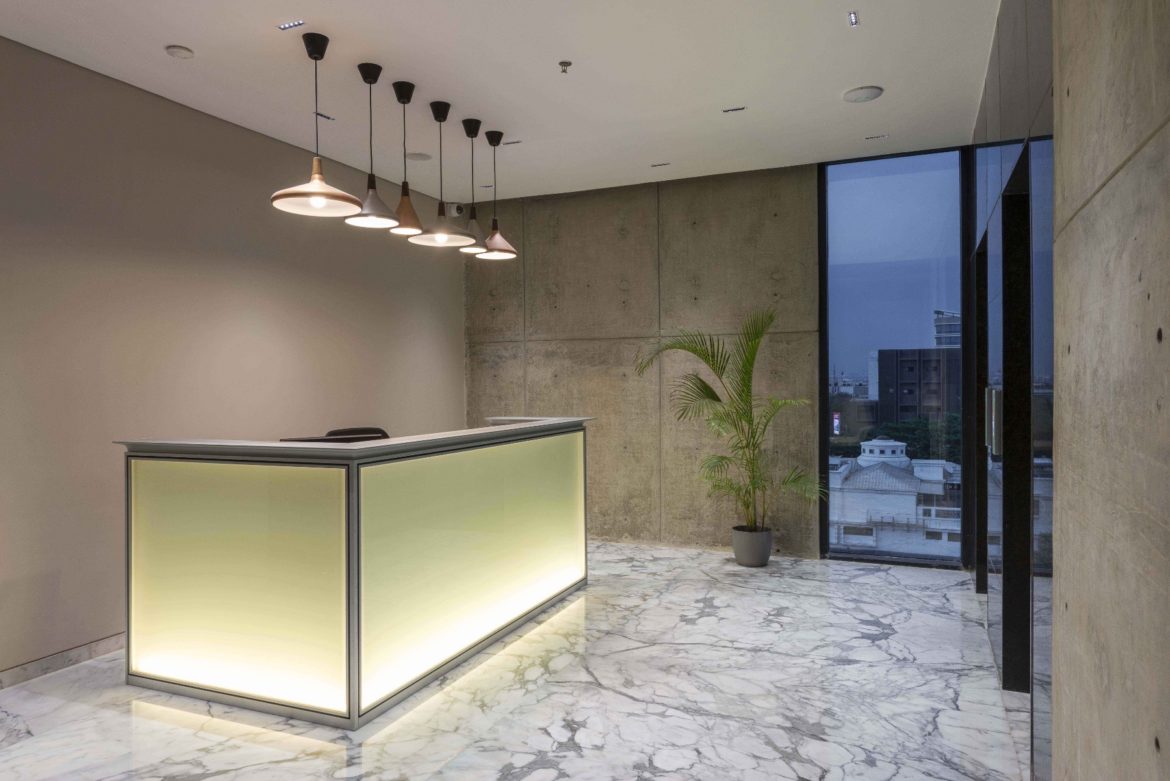 Agricultural manufacturer Narmada BioChem recently hired architecture firm Openideas to design their new office in Ahmedabad, India.
"The design intent was formalized by open planning and organization simplicity — and the endeavor became an exercise in rational and optimum space-planning, to fulfil the requirements on a tight, 570-sq-mt plot. The architects revisited the modernist architectural syntax to articulate a clean built-environment with good detailing.

The core company business being related to agriculture and agriculturists, prompted the architects to think of a material manifestation that would be raw, close to the earth and rooted — culminating in concrete as the material of choice. Glass became a companion material for its lightness and transparency — and as a counterbalance to the solidity of concrete. While metal forms the third partner to this pairing on the facade, in the interiors, the palette includes natural stone, wood and metal as well. The extensive use of glass makes daylight a constant and integral part of the spatial experience, controlled by mechanized roller blinds as shading devices.

Always keeping things 'simple, practical and yet aesthetically beautiful, the geometry of the built form emerged as simple, with clean lines, albeit decisively aspirational and global. The rationale behind this design direction was the sector's considerable technological and biological advancements (organic farming, green houses, drip irrigation, cross breeding, etc), which could be embodied in the building as well. Tadao Ando's work was a constant inspiration through the design journey, to learn from his understanding of materiality (especially concrete) and his ability to make a simple box powerful and poetic at the same time."
Location: Ahmedabad, India
Date completed: 2022
Size: 23,519 square feet
Design: Openideas
Photos: Sebastian Zachariah
The post Inside Narmada BioChem HQ's New Ahmedabad Office appeared first on Officelovin'.