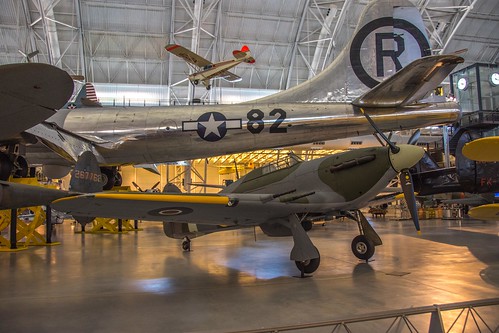 Hurricane Mk IIc LF686


Image by www78
The Hawker Hurricane was a WWII-era single-seat British fighter developed in 1935 and famed for its role in the 1940 Battle of Britain.
Hurricane Mk IIc LF686
The Hurricane first entered production in 1935, as it began to become clear that another war was coming. It was innovative for its time due to the presence of a retractable undercarriage and the new Rolls-Royce Merlin engine, though it also had a dated linen covering and a simplistic design. Though outdated and overshadowed by the more modern Submarine Spitfire, its relative ease of production meant that it would continue to be produced in the early years of WWII.
Hurricane Mk IIc LF686
The Hurricane entered WWII during the Battle of France, after the bulk of the Spitfires were reserved by the United Kingdom for the defense of the Home Islands. The Hurricanes suffered heavy losses, losing 386/452 including 178 abandoned during the retreat, while shooting down 299 German aircraft. After France, the relatively underpowered engine of Hurricanes were modified with American octane "supercharge" boosters.
Hurricane Mk IIc LF686
The Hurricane was the mainstay of the Royal Air Force during the Battle of Britain and accounted for 60% the victories in the air, though this was due to the tactical division of fighting, with the Spitfires going after German fighters and the Hurricanes going after the bombers. They were then relegated to nightfighters and sent to North Africa, Malta, and East Asia. In the Mediterranean, the Hurricanes suffered heavy losses against the faster and more versatile Italian aircraft and they were gradually replaced by Curtiss Tomahawks/Kittyhawks. Similar issues arose in Malaya and Singapore against Japanese aircraft. The Soviet Union was reportedly unimpressed by the fighter altogether, though they retained them for minor fighter-bomber and escort roles. By 1942 most Hurricanes were relegated to second-line roles, though they continued to be used as fighter-bombers. They were present in the China-Burma-India Front as late as 1943. Hurricanes fought in all theaters of war. Some 15000 were produced during the war, of which 17 remain airworthy.
Steven F. Udvar-Hazy Center, Smithsonian National Air and Space Museum, Chantilly, Virginia