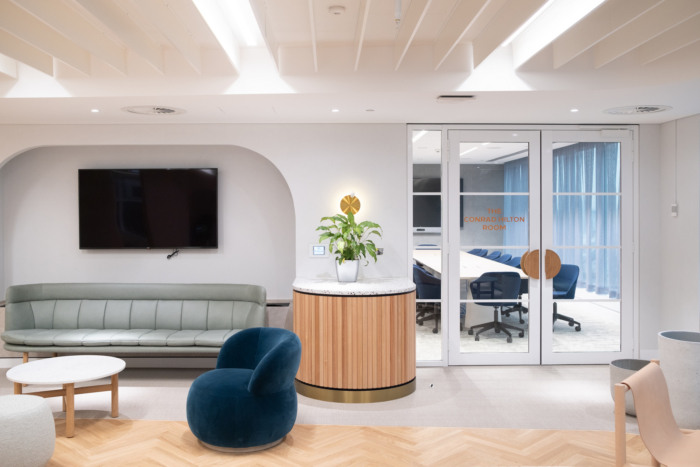 Hot Black Design was selected to design the offices for hospitality giant, Hilton, located in Sydney, Australia.
Located in the heart of Sydney's CBD, Hilton Hotel wanted to embrace the local landscape and city views whilst remaining warm & welcoming for all those that visited. With a panoramic skyline & iconic views as the focal point externally, the internal design complemented it with a light & bright office space paying homage to neutral tones and embracing a soft residential feel.

Materiality was crucial to convey the homely and inviting feeling, whereby soft timbers and pastel colours are accentuated by bronze detailing and the space embraces you with a feature waved ceiling. With the intent of this project to be the benchmark for future offices around the world and emphasise the rich history of Hilton Hotels worldwide, custom graphics were also used to add personality and allow visitors to experience the story behind Hilton Hotel.
Design: Hot Black Design
Photography: Eric Thai
The post Hilton Offices – Sydney appeared first on Office Snapshots.