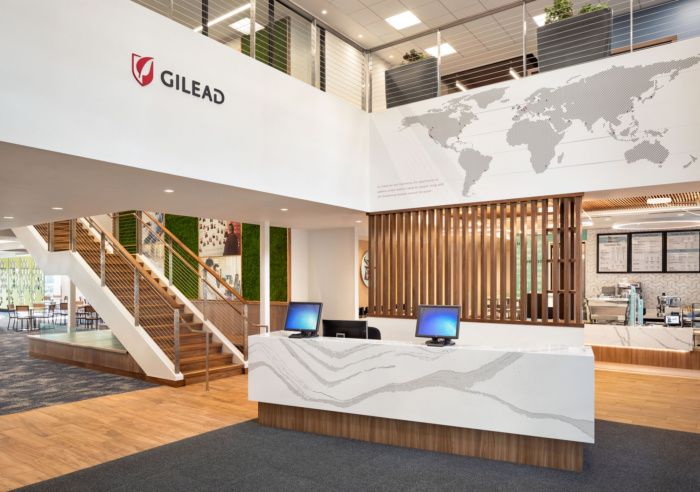 Office Designs
Gilead Sciences Offices – Foster City
|
September 9, 2020
HDR has achieved the modernized office design for Gilead Sciences, a biotechnology company, located in Foster City, California.
For nearly 30 years, Gilead has brought life-enhancing and life-saving therapies to patients around the world. Their research requires exploration and creativity and both individual and team work. To facilitate this type of work culture, Gilead knew they needed environments that encouraged employees to connect with each other and do their best work. Over the past four years, HDR has partnered with Gilead on campus modernization projects that prioritize an engaged workforce and support a high level of innovation, employee engagement and productivity.

Highlights of the new workplace design include:

Efficient, flexible and inspirational workspaces enabling employees to create work environments that best suit their needs.
Community spaces that incorporate technology, whiteboards and comfortable seating to allow for both casual interactions and structured teamwork.
Re-envisioned lobby space with enhanced messaging and thoughtful uses of furniture, materials and color to reinforce Gilead's brand and mission.
Café upgrades that address inefficiencies and introduce combined socialize-work-eat spaces to provide opportunities for casual collisions and interactions.
Outdoor workspaces that promote wellness and encourage employees to connect with the natural environment for both work and play.

In addition to multiple interior design projects across campus, we've also used data-driven design tools to provide accurate, real-time data such as occupancy, capacity, cost, functionality, space assignment and reporting possibilities to support Gilead with long-term asset planning.

This ongoing partnership is evolving as Gilead welcomes a new CEO and leadership team. The new corporate vision for agile workplace is expanding to include the global Gilead community.
Design: HDR
Photography: Dan Schwalm
The post Gilead Sciences Offices – Foster City appeared first on Office Snapshots.