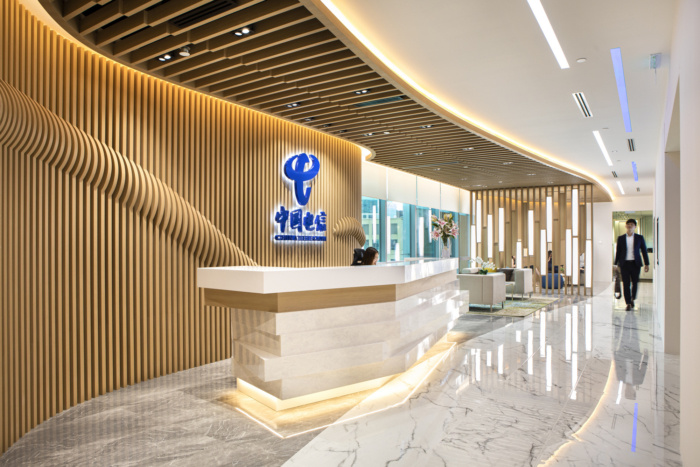 Onestop Creative Associates completed the offices for China Telecom, a telecommunications company located in Singapore.
OSCA was commissioned to create a new office for China Telecom – a space that is young, fun and energetic to reflect the company's mostly millennial employees.

The design approach was to create a futuristic and sophisticated office to signify that China Telecom is at the forefront of technological. Timeless materials were utilized in combination with complex design features, with timber applied extensively to the reception counter and pantry ceilings to lend a sense of warmth to these spaces.

Apart from timber, marble was another heavily featured element throughout the office. The bold use of wood and marble materials helps to promote a balance in the workplace – similar to yin and yang.

To break up the open workspaces, manager offices, phone booths and meeting rooms were scattered in between clusters of workstations. This also helps to divide each department into zones.

A significant portion of the original office architecture was retained to help conserve resources and improve environmental sustainability. This meant incorporating the existing structure, including the partitions and system furniture, into the overarching office design theme, which proved a considerable challenge to the design process.

Despite experiencing some hiccups along the way, our designer was able to successfully weave in all existing elements into the new layout to create a minimalistic, yet futuristic and vibrant office space that embodies China Telecom's ethos.
Design: Onestop Creative Associates
Photography: Vic
The post China Telecom Offices – Singapore appeared first on Office Snapshots.