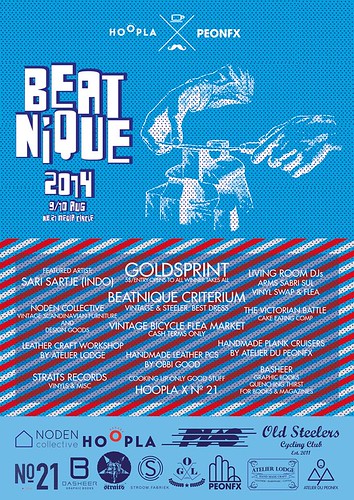 Beatnique 2014


Image by inju
See www.facebook.com/events/267698506765863/
Beatnique 2014
Hoopla x Peonfx presents you Beatnique 2014. A 2 day event happening over at Hoopla cafe this national day weekend. Infusing crafts, music and passion all into one. A selection of brands and their finest products will be available. From handmade leather crafts, photography, artwork, vinyl tunes, kendama to bicycle enthusiasts.
Beatnique 2014
If you have noticed the artwork in Hoopla, yes, we are bringing you Sari Sartje's Stroom Fabriek (Indonesia) as our featured artist in our inaugural event.
Highlights would include vinyl and bike swap, Beatnique Goldsprints and Criterium where registration fees applies. Cash to be won and for the Criterium, PIAS Agra frameset as top prize.
For the gastronomically brave, take part in the cake eating competition and winner takes all – cash in hand and cake in the tummy.
If you are into leather crafts, the folks from Atelier Lodge will be having their leather workshop in Hoopla as well.
Where: Nø 21 Media Circle, S138562 – Not sure? Google it!
goo.gl/maps/HEdHF
Living Room DJs – 9 &10 August
– Sul, Arms and Sabri
– Spinning through their finest home collection
Vinyl Swap and Flea – 9 &10 August
– vinyl swap among enthusiasts.
Beatnique Goldsprint – 9 August 2014
– One vs one stationary bicycle sprint contest on rollers
– per registration, winners takes all
– Registration opens from 2pm onwards
– Open qualifiers, fixed distance.
– Top 2 best timings will be in the finals.
Beatnique Criterium – 10 August 2014
– Open to all bikes, per registration (Cash only)
– Race format will be provided soon
– Registration on 9 Aug SAT only from 2pm
– Race starts at 6pm, 10 Aug SUN
– Winner will receive Cash and Pias Agra Frameset
Vintage Bicycle Flea Mart – 9 &10 August 2014
– Bicycle and component swap. Curated by Old Steelers Cycling Club
Chomp Down Cake Competition – 10 August 2014
– per registration
– Winner takes all cash
– Registration on 10 Aug SAT only from 2pm
– Stuff your face at 5pm, 10 Aug SUN
– Only 10 slots available!!
KENDAMA JAM! 9&10 August. All are welcome!!
Vendors
Hoopla :
– Serving you bite size goodness
– Home made popsicles and organic Sodas
– Coffee is Definitely
No. 21 :
– Cakes, Tarts and mind blowing brownies.
– Crusty and Fluffly Breads, Cakes
– Bakery in sweet and savoury
PEONFX
– Latest collection for 2014
– Handmade plank cruisers from Atelier Du Peonfx
– Past season collection sale
– Mystery product launch from the good folks of Kendama SG
Straits Records
– Sales of vinyls and all things music.
Stroom Fabriek (Sari Sartje – Indonesia)
– Printed Artwork available – postcard and posters.
– Tees, tote bags, Kendama pouches
Noden Collective :
– Scandinavia Scented Candles
– Apparel from Magic Number
– FIN crafted Goods, totes, aprons misc
– Printed photographs by Tawan Conchonnet
PIAS Cycle
– T-shirts, sweater available for sale
– Showcase of PIAS bicycles
– Free test ride!
Basheer Graphic Books :
– An array of latest design books/ magazines
– Stocking the best and newest in disciplines
Atelier Lodge :
– School for the leather artisans
– Leather craft workshops. Contact us for more details.
Obbi Good Label :
– Handmade and custom made leather craft
– Ready made leather products will be available.
Ali Bob :
– Hand crafted all wood surfboards