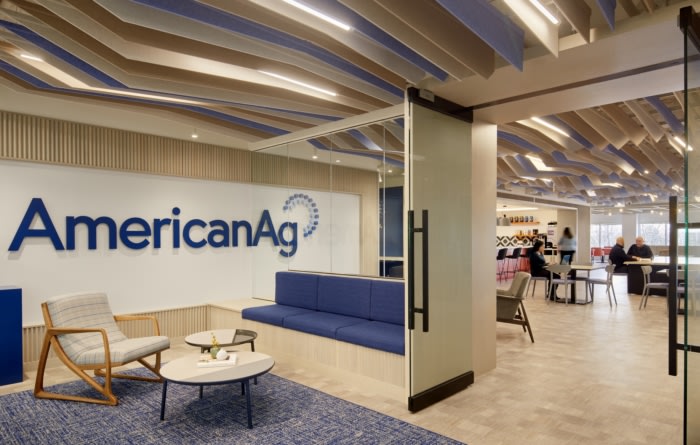 Office Designs
American Agricultural Insurance Company Offices – Schaumburg
|
April 27, 2021
Stantec reflected the brand of American Agricultural Insurance Company in the redesign of their offices located in Schaumburg, Illinois.
Looking to holistically elevate their office space, American Agriculture Insurance Company wanted the design of their workplace to reflect their invigorated brand and re-energized, collaborative culture. They partnered with Stantec to develop and realize that vision, and to create a more agile workflow. Centrally located in Schaumburg, IL., this office is now a brand-centric, welcoming, active, and high-performance space for team members visiting from other locations in the region.

The dynamic new 34,000-square-foot workplace provides optimum flexibility of personal work styles with varying degrees of privacy. The Aggregate Café is a generous and centrally located multi-purpose collaboration and social hub, with dedicated conferencing areas providing state-of-the-art technology options.

A continuous branding thread begins at the front door and weaves throughout the entire space, tying areas together through the use of logo and graphics, color blocking, a glass timeline feature, and an employee accolades wall with custom-designed millwork.

The complexity of the full-scale renovation was impacted by the COVID pandemic, and the entire project was designed, documented, and executed by team members, clients, and consultants working remotely. The level of detailed communication and coordination required to overcome this challenge and produce a high-end design solution required learning new methodologies for project delivery that were embraced by the entire team. The end result is a transformative space that maximizes workflow efficiency, flexibility, collaboration, and brand presence.
Design: Stantec
Design Team: Christopher Keller, Ken Novak, Jill Dexter, Aileen Sancho, Erik Butka, Morgan Maples
Contractor: Brendan O'Carroll
Photography: Dave Burk
The post American Agricultural Insurance Company Offices – Schaumburg appeared first on Office Snapshots.