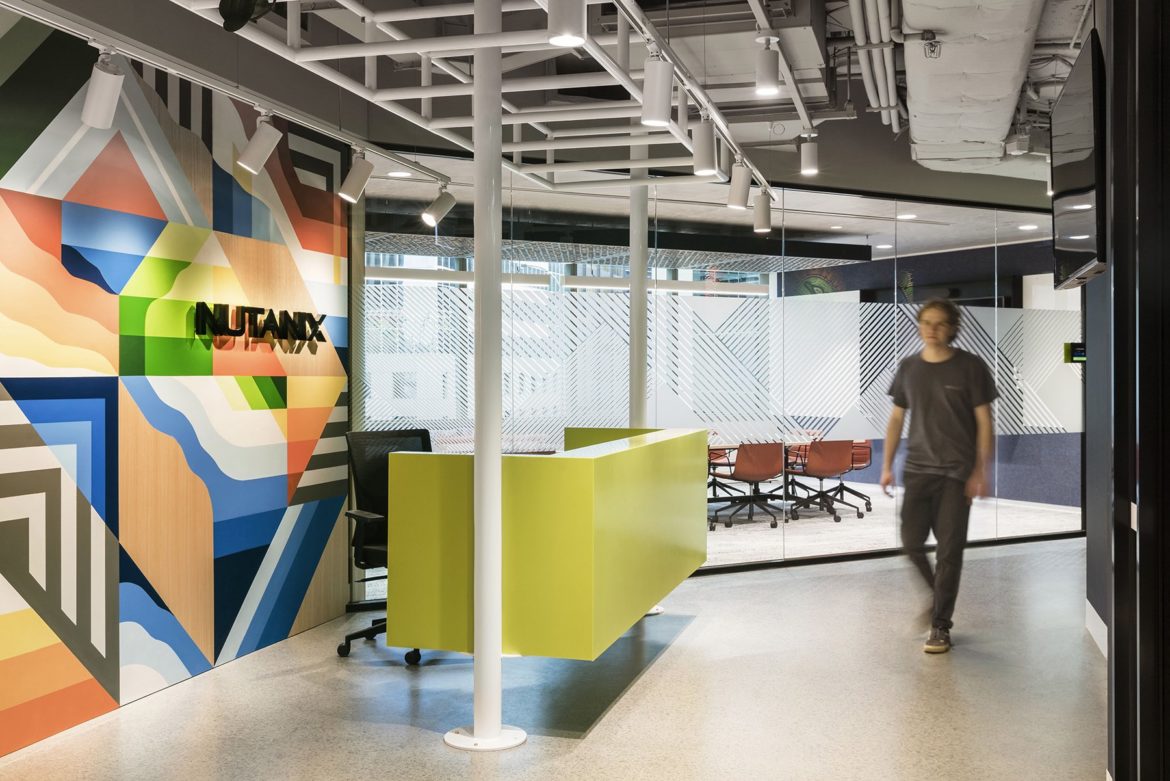 Computer software company Nutanix recently hired architecture firm M Moser Associates to design their new office in Sydney, Australia.
"Manifesting the company's mission to disrupt the industry with innovative software solutions while expressing its fun, humble and collaborative culture, The Common Room delivers a welcoming and memorable social experience from the outset.

With spectacular views of the Sydney Harbour Bridge and the up-and-coming Barangaroo business district, this flexible front-of-house connecting the reception to an open pantry and community space provides staff with many opportunities to unwind and foster human connections.

A large training room behind the reception, named The Box, uses sliding timber partitions to connect its meeting space with the wider Common Room, instilling pride and excitement among Nutanix staff to host in-house training sessions, town hall meetings, and invite partners and clients for corporate events.

Bright, playful colours aligned with Nutanix's brand identity informalise public and private workspaces across the office to accommodate a variety of activities and behaviours, reflecting the company's focus on working as one community and providing a fun place to work.

Humanising the workplace with art

Drawing on Australia's deep cultural makeup, traditions and Aboriginal heritage, we engaged several local artists to intertwine visual elements and values of the Nutanix brand with local influences. Among such elements is a striking mural behind the reception, which enlivens the arrival experience and sets the stage for a meaningful and inspiring workplace journey. Graphics and art pieces displayed across the office connect Nutanix's global brand to Australia's rich local culture, breathing new, creative life inside its work environment.

We brought to life the company's four key values – Hungry, Humble, Honest with Heart – by strategically placing installations around The Common Room, further stimulating a spirit of creativity while reinforcing a sense of belonging to the organisation.

Minimising environmental impact

As sustainability correlates with innovation, this office is designed to support staff well-being and reduce its environmental footprint. This was achieved by virtue of improved indoor environmental quality, increased ventilation, water and energy efficiency, and material conservation to promote adaptive reuse while minimising construction cost and waste. Working closely with the Nutanix team, our attentive process resulted in a healthy workplace environment, receiving the LEED Silver Certification and championing planetary stewardship using sustainable design practices.
"
The post A Tour of Nutanix's Modern Sydney Office appeared first on Officelovin'.