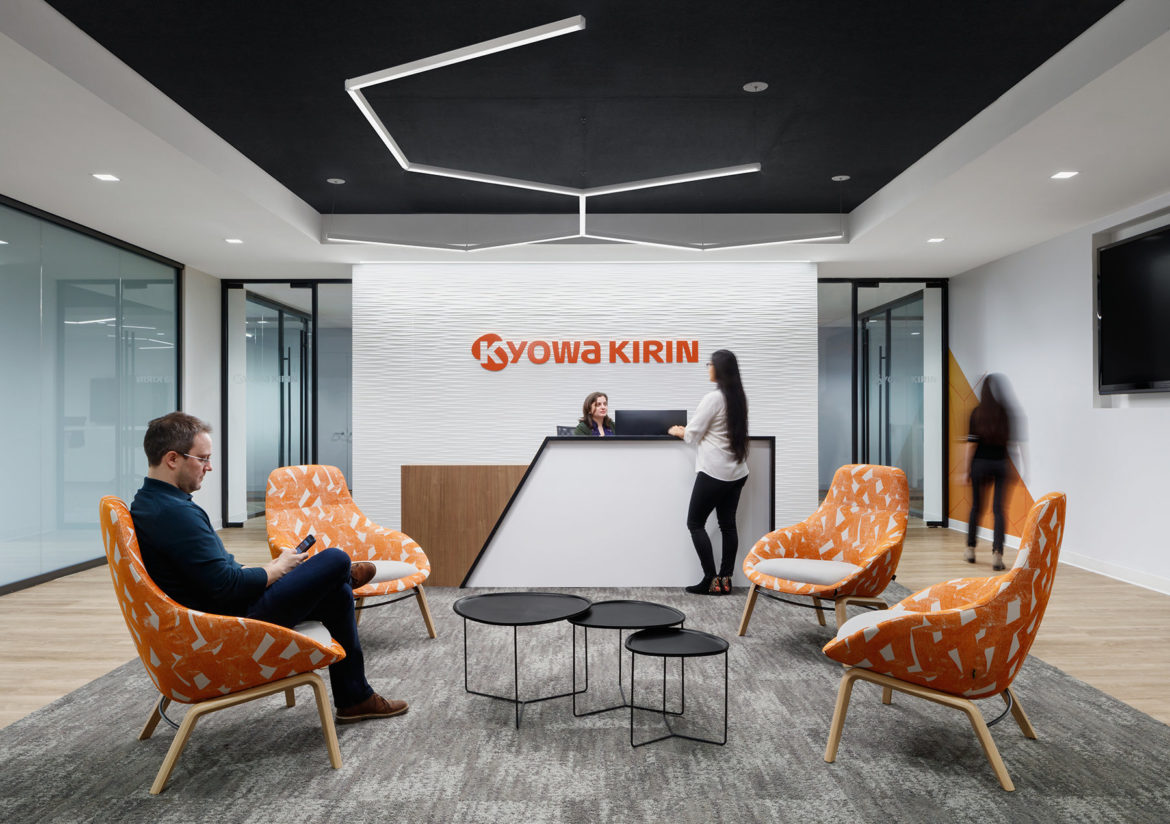 Japanese biotechnology company Kyowa Kirin recently hired architecture and interior design firm HLW to design their new office in Bedminster, New Jersey.
"Having greatly outgrown their previous office, international pharmaceutical and biotechnology company Kyowa Kirin took over a 24,000-square-foot new workspace in Bedminster, New Jersey. Recognizing the need for maximum flexibility, Kyowa Kirin tasked global architecture, interiors, planning, and strategy firm HLW with designing a scheme that could grow alongside the life sciences company's rapidly expanding team. HLW's plan –– which was implemented by the building's architect and capitalized on tenant improvement dollars to maximize efficiency on a modest budget –– allocated for double Kyowa Kirin's current staff size while maintaining a sense of brand-oriented culture and community.

Employing their experience in large-scale workplace strategy and interiors, HLW's team developed a design that is rooted in Kyowa Kirin's mission of global health and wellbeing, showcasing both the company's patients and its new locale in the space's branding –– hallmarked by a signature color scheme of white, gray, black, and orange with hints of blue. Placing the majority of the private offices on the floorplate's interior, the team opened work areas up to views of the outside. For offices placed on the exterior –– a few of which were inevitable given the unique shell of the building –– HLW ensured that walls could be easily broken down to allow for more open workspace in the years to come.

Further prioritizing their efforts on the need for flexibility, HLW selected a number of additional high-impact solutions made to easily accommodate the growth of this dynamic organization. Conference and boardrooms were strategically placed around the entryway and designed with switchable glass, ensuring that programming could be quartered off as necessary. Height-adjustable desking systems in the work areas were specified with six-top seating capabilities, with soft seating placed in the middle row to allow for team collaboration and easy switch-over to additional workspace should more employees be added to growing teams. Finally, systems were arranged in neighborhood concepts to ensure team members were close to one another to support a more streamlined workflow. The resulting plan enhances Kyowa Kirin's family like atmosphere while creating better opportunities for connection."
Location: Bedminster, New Jersey
Date completed: 2020
Size: 24,000 square feet
Design: HLW
Photos: Colin Miller
The post A Tour of Kyowa Kirin's Modern Bedminster Office appeared first on Officelovin'.