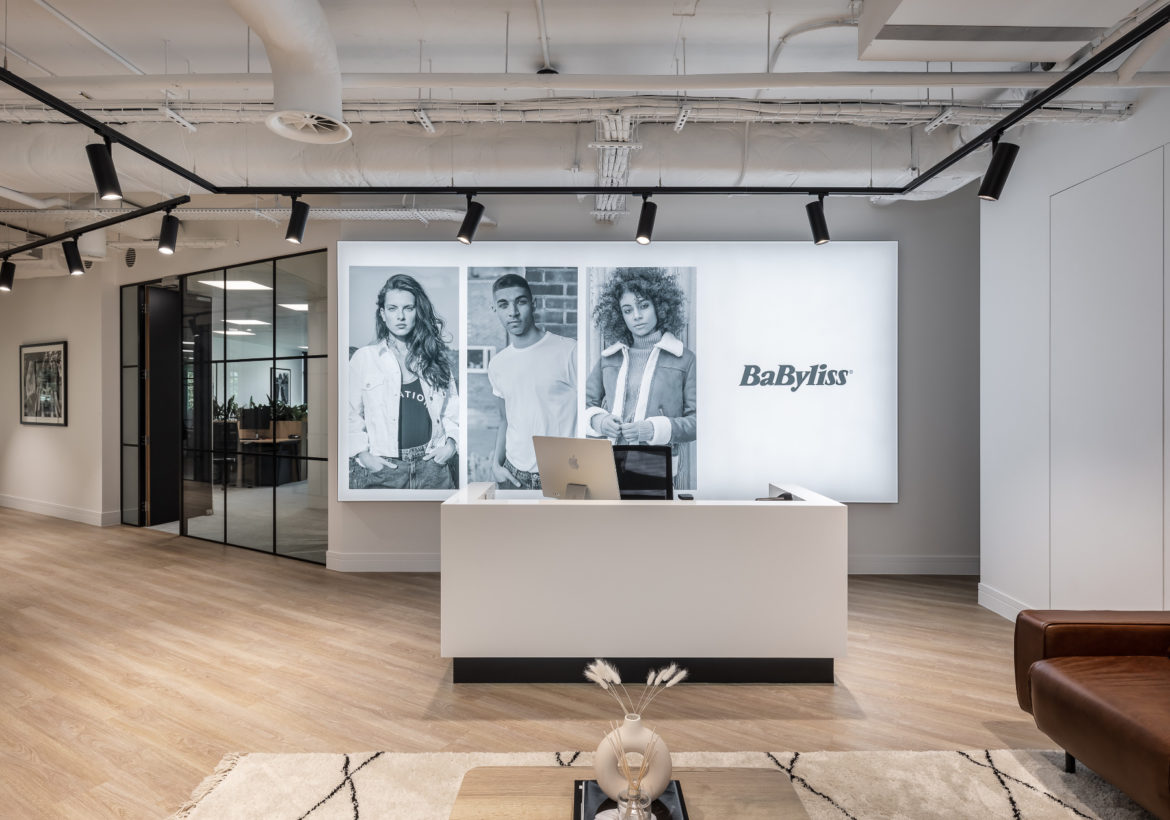 Personal care product manufacturer BaByliss Conair hired workplace design firm Oktra to design their new office in Basingstoke, England.
"An impressive backlit display of a BaByliss campaign image greets employees and visitors at reception before they journey down the central thoroughfare that divides the office and gives each brand a contained workspace. We stripped out the services in the corridor and removed the traditional ceiling grid to give the space more height. BaByliss and Conair's offices flank each side of the corridor which leads to the communal breakout space and teapoint accessible to all teams.

The workspace is branded tonally through subtle use of Conair's brand palette, with restrained use of the soft pastels and muted colours characteristic of their products. The aesthetic is clean, crisp, and timeless, with pockets of colours picked up in fabrics and finishes. This modern and minimalistic design compliments the architecture of the building which is a focal point within the business park.

We held workshops with our client's design team to better understand their work processes and the spaces needed to test their products. A unique desk solution was one of the outputs of this process; bespoke modular units featuring desks either side of central planting that acts as a soft screen and aids employee wellbeing. We also introduced power outlets that are compatible with electrical products from the UK, US, and Europe.

The primary function of BaByliss' side of the office is product testing. In their previous space, they had struggled with logistics as there was not enough room to store the products and they were cluttering their workspace. We had to consider the journey of each product that was delivered to the office and designed a solution to optimise the process. Products are first deposited in the storeroom where they are sorted, before being moved to the storage next to the desks. The teams will then have the product on hand to discuss at the collaboration worktops.

The 14-person boardroom is used by Conair's sales team and is designed to make an impact. The walls are wrapped in backlit display units that showcase their products, and state-of-the-art AV technology, surround sound and blackout blinds can be used to create an immersive experience. With bespoke workspace designed around BaByliss and Conair's workflows, both brands are looking forward to improving their overall efficiencies and sales process."
Location: Basingstoke, England
Date completed: 2022
Size: 8,150 square feet
Design: Oktra
Photos: Oliver Pohlmann
The post A Tour of BaByliss & Conair's New Basingstoke Office appeared first on Officelovin'.