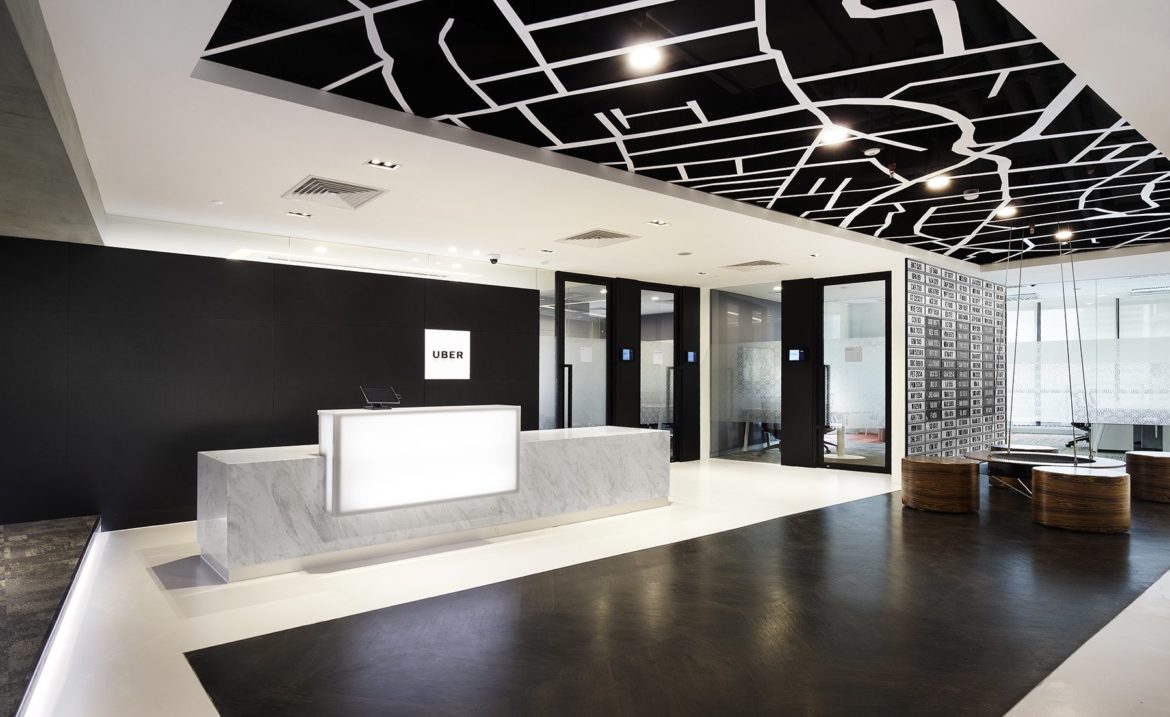 Ride-hailing company Uber recently architecture and interior design firm A.I Associates to design their new office in Kuala Lumpur, Malaysia.
"Upon arriving at Uber's headquarters, the central lift lobby leads towards two entrances situated opposite one another – one for employees and another for guests which takes them directly to the reception area. Elegantly done up in a monotone palette, the reception area takes on a contemporary look with a long sleek counter anchoring the space. What stands out is the waiting area which features a set of circular seating with a cantilevered coffee table hanging down from the exposed ceiling.

This furniture piece also comes complete with a metal route map. On the side, there is a feature wall displaying different local car number plates – a smart way to subtly introduce Uber's core business in Malaysia as an app-based transportation service. From the reception, the space opens out to the meeting rooms which employ the use of cement finishes and different textures, further leading visitors into the main office area.

Spread out across the 11,115sqft office are clusters of workstations flanked by a series of meeting rooms, collaboration areas and "hush rooms" – quiet spots for employees to chill out or contemplate on ideas. "Collaboration zones are provided evenly throughout the office space," says the design team from AI Associates. "We incorporated various furniture pieces to give these areas a unique look."

While the main work areas take on a more corporate look with functional features taking priority, collaboration zones are designed in a vibrant way to encourage engagement and foster creative communication. One of these collaborative spaces is distinctively designed with a sky lounge concept complemented by an oceanic theme. Placed next to the window, the space offers panoramic views of the city skyline.

For the meeting rooms, these spaces are configured adjacent to the main office area for easy accessibility. Designed along the core building, the meeting rooms take advantage of the natural light streaming in, affording a cosy yet sophisticated place to conduct discussions or conferences. Equipped with cutting edge technology, the meeting rooms are designed to ensure seamless communication.

To offer spaces for employees to rest and relax in, breakout areas, pantries and social zones are included as transitional spaces between the main work areas. In these spaces, the designers incorporated different textures and patterns such as corrugated metal sheets and tiles with cultural motifs to introduce a touch of local vibe. Bright hues also accentuate nooks and corners to create a lively atmosphere. Additionally, the breakout area and pantry are kept open and versatile so that they can be converted into a "town hall" for informal gatherings when required.

Throughout the office, spaces are designed to be open as possible so that employees can easily move about between one area to the next. Doing away with walls or physical boundaries effectively encourages communication and synergy between business units.

To infuse the office environment with personality and visual interest, a selection of unique materials, unconventional furniture and interior details are used. For instance, wall cement finishes, timber strips, geometrical tiles, multi-colour face bricks, cork boards, Volakas marble, carpet tiles in bold tones as well as decorative lighting, bean bags and stylish furniture pieces all add to Uber's energetic office environment."
Location: Kuala Lumpur, Malaysia
Date completed: 2017
Size: 16,000 square feet
Design: A.I Associates
The post A Look Inside Uber's Kuala Lumpur Office appeared first on Officelovin'.