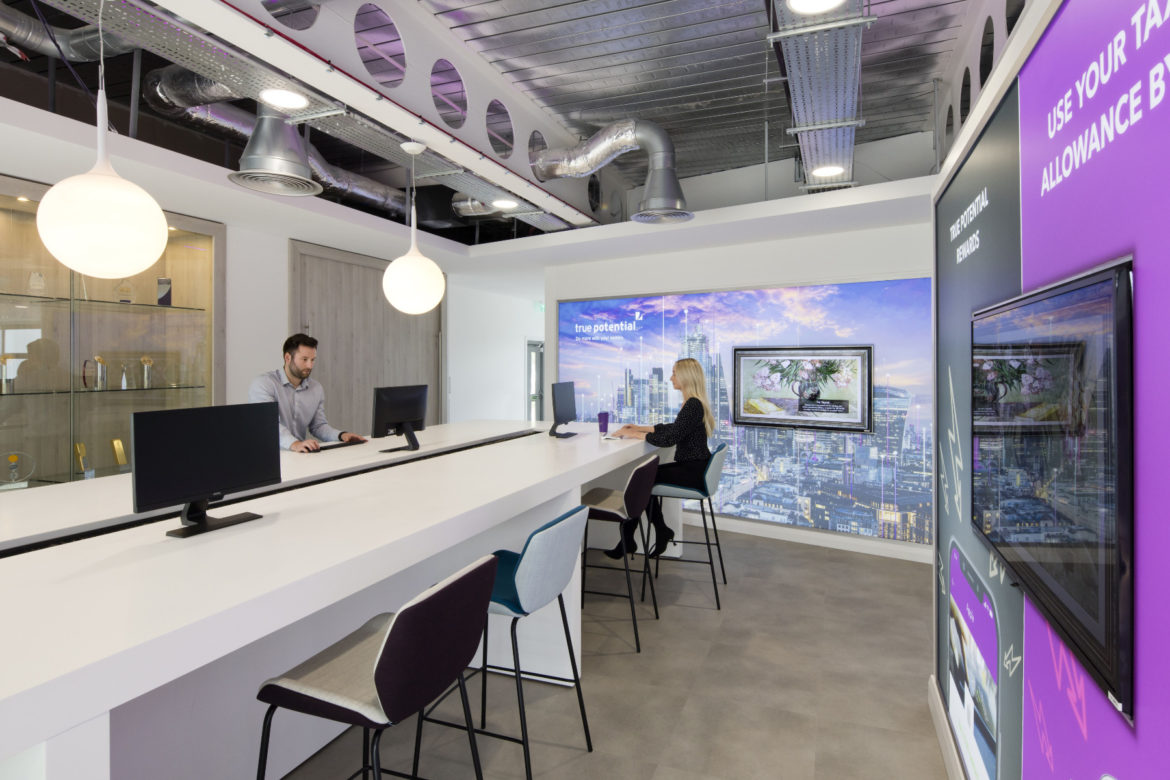 Office Renovations
A Look Inside True Potential's New Newcastle Office
|
September 11, 2021
Financial institution True Potential hired interior design studio Ward Robinson to design their new office in Newcastle, England.
"The overarching concept behind the new design was to create a place where visitors and staff can reconnect with each other and the company. Whilst still being a professional environment, the use of a more domestic approach in the variety of seating and work-stations, as well as larger kitchens on all three floors, fosters a communal feeling with added comfort.

The building has expansive windows with views to the River Tyne and countryside. Connecting with the outside has always been an important element of previous designs for staff wellbeing, but this time it is a key feature. A full remodel of the interior was required to open up the floors as much as possible for ventilation and to maximise access to the outdoors.

Two walls on the ground floor have been replaced by fully opening folding glass doors which lead from the kitchen to a large new private garden terrace with stepped seating and high-level planters. Different types of interior settings from amphitheatres to dining booths and boardrooms to café space all allow for social distancing. Settings have multiple uses – for example, an amphitheatre may be used by three people or thirty. There are no dedicated desks for the majority of staff, with the exception of the administration and contact teams, but people also have flexibility to work where they choose with a variety of pods, seating and work stations.

Sustainability has been addressed over the years by reusing and refurbishing as much as possible at each redesign. The company invested in classic modernist furniture early on which has been reused in several schemes. New spatial concepts for this design were developed around existing key features such as the ground floor rotunda, which previously housed the ground floor kitchen. This is now a meeting, working and presentation amphitheatre with stepped seating and a full height curved screen."
Location: Newcastle, England
Date completed: 2021
Size: 31,000 square feet
Design: Ward Robinson
Photos: Kristen McCluskie
The post A Look Inside True Potential's New Newcastle Office appeared first on Officelovin'.