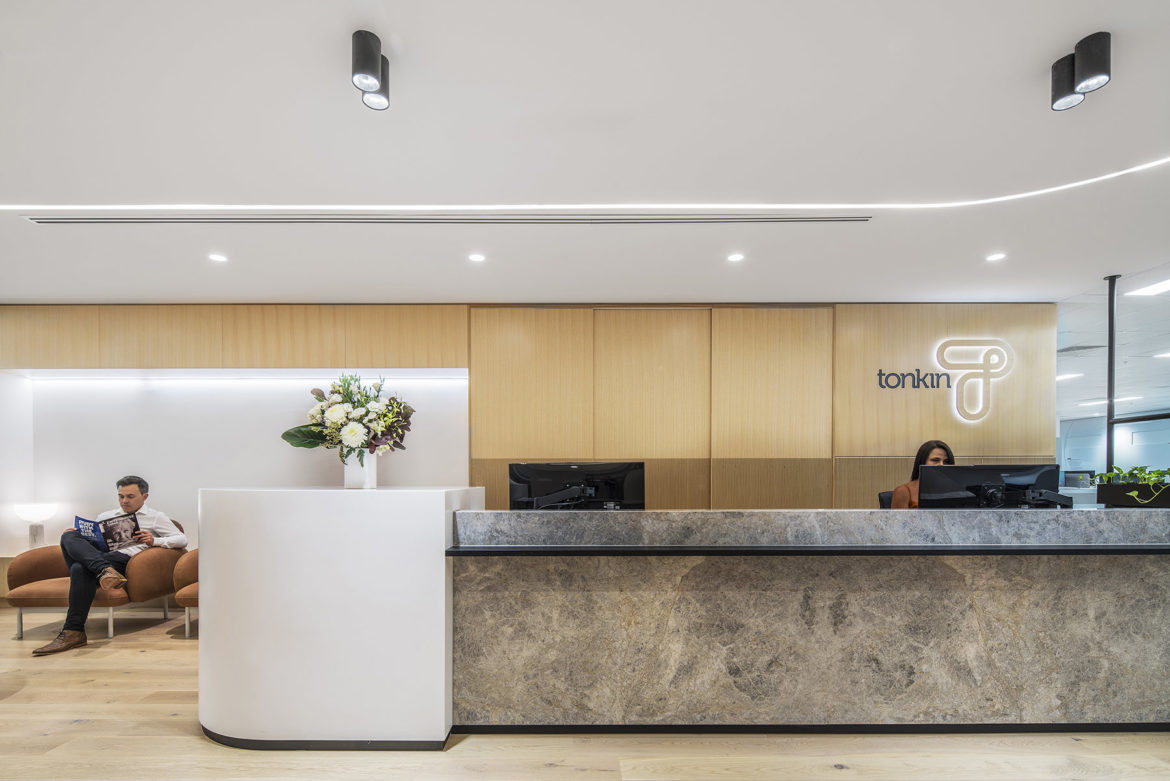 Office Renovations
A Look Inside Tonkin Consulting's Elegant Office in Adelaide
|
July 6, 2020
Provider of engineering, environmental and related services Tonkin Consulting recently hired architecture and interior design firm Hames Sharley to design their new office in Adelaide, Australia.
"The core idea was to create an environment conducive to 'Building exceptional outcomes together'. The stereotype of Engineers was cast aside and instead a sense of Home prevails. Home is where the heart is, where our boundaries come down and we belong. The infinity symbol in the Tonkin Trust Mark represents the shared journey to connecting communities. Tonkin's people are at the heart of that process.

Using domestic references unconventionally, we created a warm, welcoming space with an understated playfulness. We created flexible settings allowing employees to decide where and how they'll work. The space has Open Plan Office, Quiet Rooms, Banquettes, plan tables and create stations, and Focus pods. The boardroom, with its curved glass partition, leather dado rail, modern pendant, timber lined ceiling and soft decorative voiles wrapping the interior space, creates a sense of the unexpected. In the breakout kitchen there is a hanging garden/lighting system suspended above the island bench.

The collaboration zone, an adaptable space with tiered seating and ottomans, was created for both work and play. The exterior side of this zone was wrapped with Tonkin corporate values on matte and gloss panels. The nature inspired carpet evokes a sense of calm while the soft furnishings are richly textured and comfortable. Lighting and furniture has rounded corners and smooth edges for a soft aesthetic," says
The post A Look Inside Tonkin Consulting's Elegant Office in Adelaide appeared first on Officelovin'.