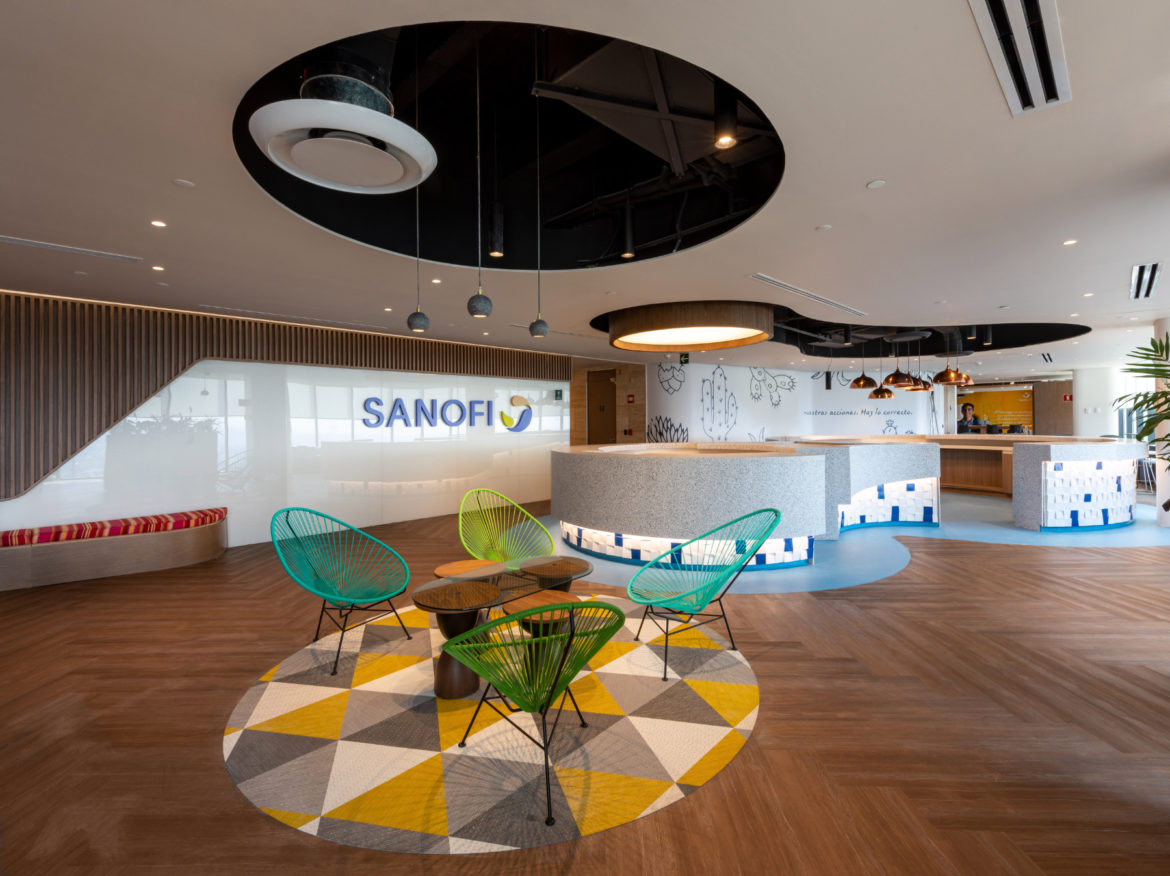 Pharmaceutical company Sanofi recently hired architecture firm spAce to design their new office in Mexico City, Mexico.
"The finishes were decisive in the project, combining them in a complementary way: wood, marble, carpets, glass, murals and furniture, helped accentuate the character of each stage. In general, neutral colors predominate throughout the project with some key color accents on walls, columns and carpets, where bright tones were used according to a chromatic palette that unifies the image and reinforces the identity of its values. The flow of reality is structured by overcoming the barriers of the common, functional and habitual, creating well-lit spaces designed to increase productivity that celebrate comfort and versatility.

The use of brand identifiers throughout the spaces, built through murals made by a great Mexican artist and furniture with artisan manufacturing techniques and symbology inspired by indigenous cultures, seek to honor Mexico's rich natural heritage, from the Tarahumaras in Chihuahua to the Mayans in the Yucatan Peninsula.
Mexico is a tapestry of ancestral villages with unique visions, customs and aesthetic values. Taking patterns, textiles, colors and techniques from these tribes as inspiration, created a rich design language to sustain the connection. Death has meant, ever since ancient times, transformation, an opportunity to be reborn. The concept of life after death is also honored in this great architectural space. Architecture allows us to perceive and understand the dialectic of permanence and change to establish ourselves in the world and ally with culture and time."
Location: Mexico City, Mexico
Date completed: November 2020
Design: spAce
Photos: Pim Schalkwijk
The post A Look Inside Sanofi's New Mexico City Office appeared first on Officelovin'.