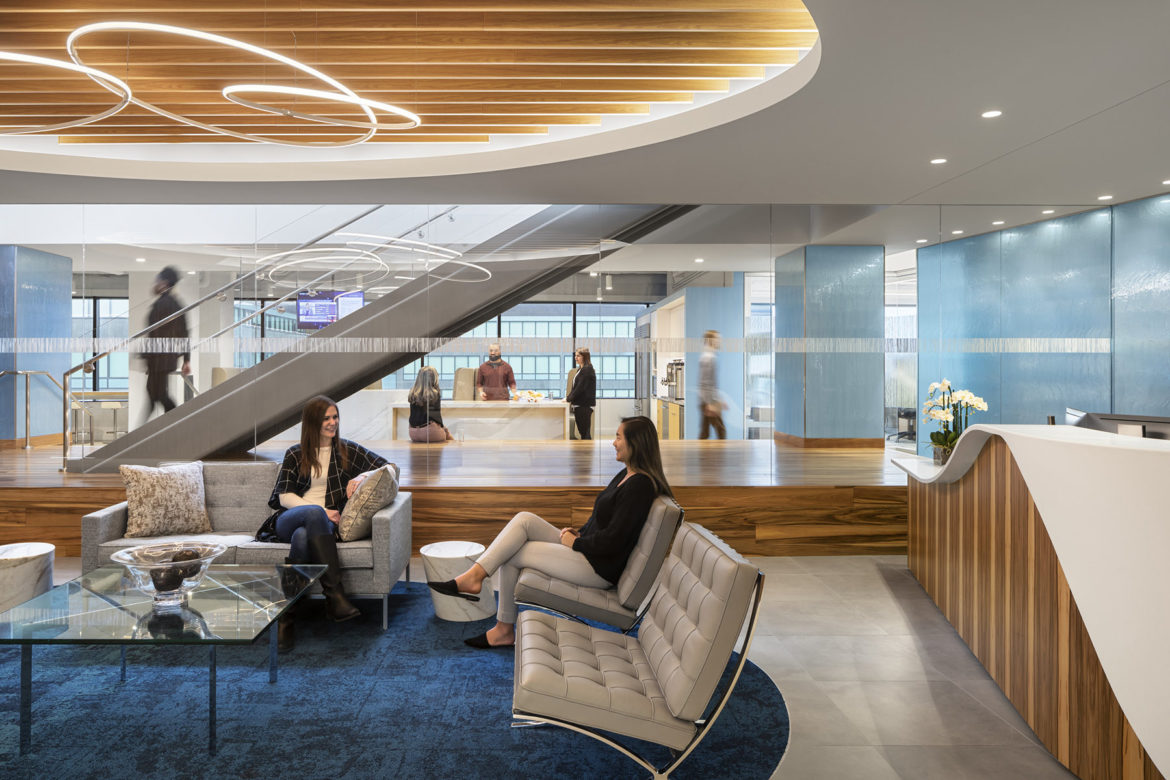 An architecture and interior design firm Perkins Eastman recently designed a new office for fintech company FactSet in Norwalk, Connecticut.
"Rather than a traditional hierarchical environment, FactSet's headquarters features a variety of flexible work "neighborhoods" located across five floors. "Breaking down the floor plates into small neighborhoods was key, and that came directly from our engagement with the employees," said Mark Creedon, AIA, LEED AP, Co-Managing Principal at Perkins Eastman. "There was a lot of development in creating a specific character for each floor, not only for variety and choice, but to aid wayfinding, in terms of color, texture, and materiality, and incorporating the coastal influence not only of southern New England, but of Norwalk itself."

Featuring both individual and shared team spaces, the neighborhoods include height-adjustable work stations with sit/stand desks, solar shading, and access to movable whiteboards and felt screens to increase visual and acoustic privacy. Each neighborhood is highly adaptable and tailored to the particular needs of each FactSet department, a direct result of the on-site observations. Each acknowledged the need for an easy transition from focused solitary work to collaborative group work. Thus, every meeting room, workstation, and flex space (shared spaces include phone rooms, amenity zones, and ideation lounges) is equipped with high-level videoconferencing tools.

Incorporated throughout the workplace are biophilic elements, including live plantings, green walls, and natural materials and textures, to emphasize a connection with nature. Another key feature of the design lies in the intentionality of locating shared amenity spaces—such as an outdoor terrace, lounge, gaming area, café, and conference center—on the penthouse level. "At the heart of this relocation was a desire to break down the barriers of a traditional hierarchy," explained Rebecca Milne, LEED Green Associate and Director of Design Strategy at Perkins Eastman. "By placing the amenity floor, rather than executive offices, at the top, the penthouse becomes communal and accessible to all, truly emphasizing that FactSet is one global community."

Ensuring the workspace was focused on health and wellbeing was critical, as well. To do so, the design team worked with BranchPattern, a building consultancy firm dedicated to creating high-performance, environmentally- conscious, human-centered spaces. With a primary focus on wellness, energy efficiency, and indoor environmental quality, the team incorporated an 8" raised floor throughout the space that houses an under-floor air distribution (UFAD) system. This system not only improves the overall indoor air quality, but also allows employees to control the airflow near their workstations, thus fostering a user-centered environment attuned to individual thermal and acoustic needs. The raised floor also provides a plug-and-play approach to electrical distribution, which facilitates ease of reconfiguration with minimal disruption to the end users.

Adding to the flexibility of the workspace is the pre-manufactured DIRTT demountable partition system for the conference rooms and private spaces. Made from recycled content and low VOC finishes, these highly-sustainable walls produce little waste and help shrink the building's carbon footprint.

Additionally, the office is outfitted with a daylight harvesting control system developed by ONELUXStudio. "The lighting consultant developed a comprehensive study on circadian rhythms, as we know that having access to daylight is key to employee wellness," said Helene O'Dwyer-Garcia, Senior Associate at Perkins Eastman. The system provides energy-efficient LED light fixtures throughout the space that are dimmed when natural light is available. Further sustainable features include water-saving fixtures in the restrooms and pantries, task chairs made from recycled materials, low VOC carpet tile with a low environmental impact, and recycled steel. Thanks to these environmentally- friendly measures, FactSet's headquarters boast an EnergyStar Score of 85, placing the building's energy performance in the top 15% of commercial office buildings in a similar climate."
Location: Norwalk, Connecticut
Date completed: 2020
Size: 173,164 square feet
Design: Perkins Eastman
Photos: perk
The post A Look Inside FactSet's Sleek New Norwalk Office appeared first on Officelovin'.