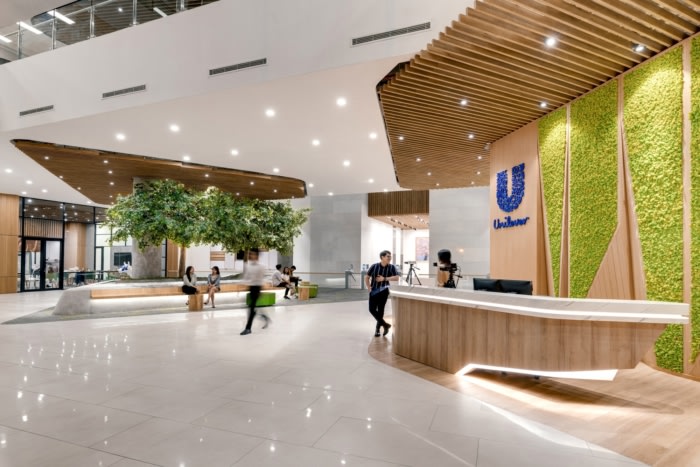 ADP Architects completed the agile workplace for Unilever, reflecting the brands' stories and increasing productivity in Ho Chi Minh City, Vietnam.
ADP Unilever is one of the biggest FMCG multinational companies in the world. With 2.5 billion consumers in 190 countries and territories, Unilever always considers sustainable development as a must for both company and community long-term growth. Up to now, Unilever has more than 400 brands with 155,000 employees world together achieving the purpose of making sustainable living commonplace.

The concept for the Unilever office is 'Funky Town'. The idea was to create a modern, young, and inspiring workplace where staff can enjoy their work the most.

Agile Working
Applying the agile working strategy, ADP created a diverse, flexible, open, transparent, and technology-enabled workplace that will give employees choice and control to stimulate ownership and clarity of purpose, allow them to connect and collaborate in a dynamic, entrepreneurial way. We reduced the fixed desks and increased the functional areas: Meeting rooms (from 32 to 93 rooms) and a variety of spaces and work settings: open discussion, formal and informal meeting room, allocating the locker around the home base to enable staff to work anywhere that they want.

Central Hub
As a part of the Unilever agile working strategy, we designed the central hub with the cafeteria as a large open discussion area which was allocated at 3 floors of Unilever and connected by the void. The objective of the central hub was to bring people together, create a sense of community, and enhance the company culture.

Brand stories – Brand hubs
The office's key highlight is the brand hubs, in which we create a context where the employees can feel and live with the brand. ADP has collaborated with the Unilever brand team to understand the product characteristics, brand value, and the message they wanted to deliver through the brand hub.

LEED Office
Trees with natural light from the void help create a natural sense and a healthier working environment. To amplify sustainable features in Unilever's office, ADP prioritized using the materials following the LEED certificate: carpet from Interface and Shaw, paint from Dulux, solid surface materials from DuPont,…

Moreover, the well-being aspects are greatly invested to ensure the employee's mental and physical health with Gym, Yoga room, Mother room,… that help enhance the work-life balance of staff
Design: ADP Architects
Photography: Valor Huynh
The post Unilever Offices – Ho Chi Minh City appeared first on Office Snapshots.