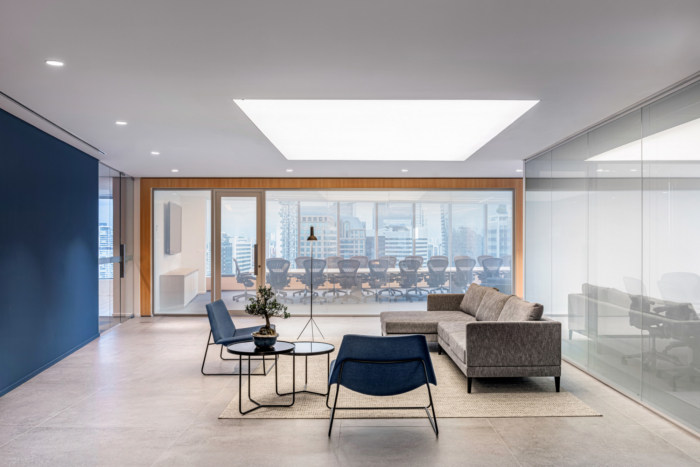 Office Designs
Confidential International Insurance Company Offices – São Paulo
|
April 23, 2020
Perkins and Will designed the Brazilian-inspired offices for an American confidential international insurance company's location in São Paulo, Brazil.
Aiming to translate Brazil's culture for the local branch of an international insurance company, global architecture and design studio Perkins and Will used five different Brazilian biomes as an inspiration to create a fun, relaxed work environment, oriented by the client's needs and business model.

To meet the client's expectations, the architects studied the building's design to create a dynamic layout that would improve floors' usage.

Considering client's business needs, reception desk and client areas have a more sober design, featuring neutral shades and natural elements. As someone enters the office, notices a gradual raise on colors' usage, with palettes inspired on Brazilian biomes.

Besides nature, Brazilian handcraft also inspired the office design. Used in the cafeteria, hydraulic tiles' stamps have a bespoke design, created especially for the project and produced by a traditional local manufacturer.

Following the project standard of employees' wellness, architects applied biophilic design features, using natural finishing materials such as wood and plants on all project areas. Clear glass partitions were set in meeting rooms to improve natural light usage.
Design: Perkins and Will
Design Team: Fernando Vidal, Danielle Superti, Carla Chalu, Cesar Tadao, Rodrigo Gianoni, Fabio Jungstedt, Karina Kavamura, Gabriella Migotto
Photography: Renato Navarro
The post Confidential International Insurance Company Offices – São Paulo appeared first on Office Snapshots.