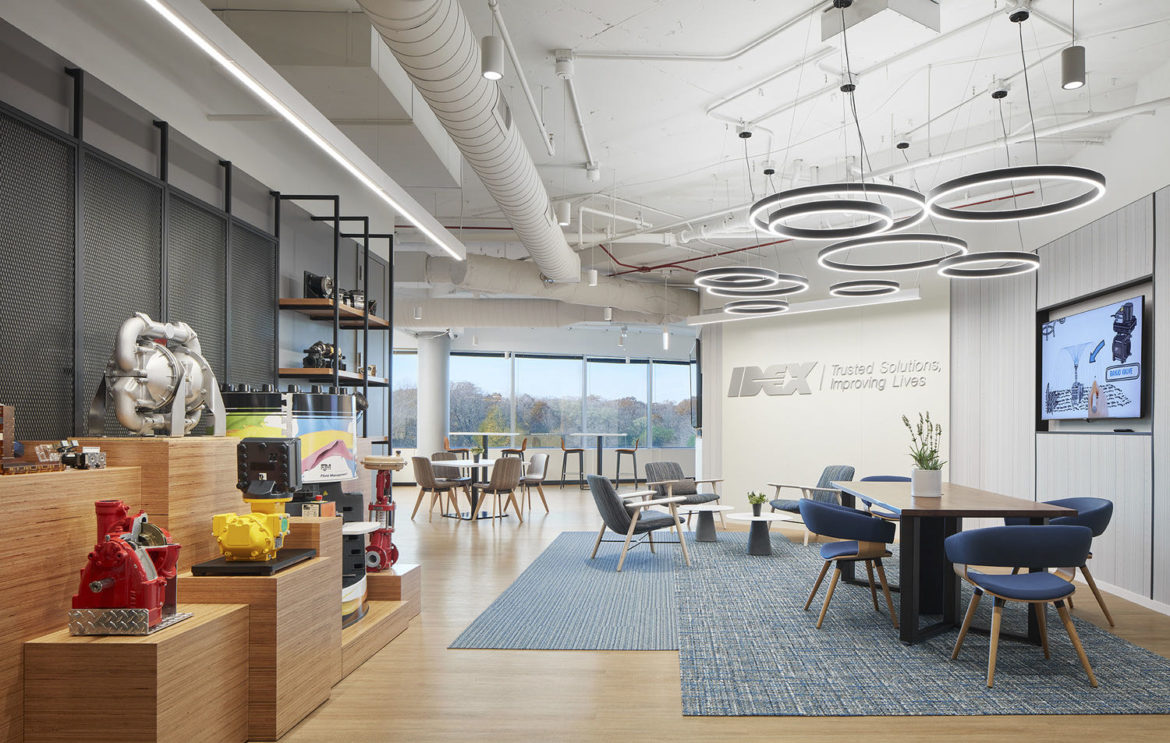 Manufacturing company IDEX Corp recently hired architecture and interior design firm HED to design their new office in Northbrook, Illinois.
"The space for IDEX's corporate headquarters was envisioned by HED to support their mission of improving lives by fueling a culture of trust, excellence, collaboration and innovation.

The space houses the corporate functions of IDEX and is designed to support focused work while still allowing for team interaction and innovation. A variety of strategically placed collaboration zones encourage interaction between users at the perimeter of the space and are linked to dedicated interior private offices for heads down work. A number of tech-enabled conference rooms of varying sizes support more formal interactions, while a game area and large central café overlooking a pond provide the backdrop to spur informal sharing of ideas.

The project includes a touchless reception, enabling visitors to check themselves in while the staff member they are coming to visit is notified electronically of their arrival. This concept has proven to be beneficial in times of a pandemic. The reception area greets visitors with a variety of seating areas and celebrates IDEX products through an engaging display and technology screens that tell the company's story," says HED
Location: Northbrook, Illinois
Date completed: 2020
Size: 22,000 square feet
Design: HED
Photos: Kendall Mccaugherty
The post A Look Inside IDEX Corp's New Northbrook Office appeared first on Officelovin'.