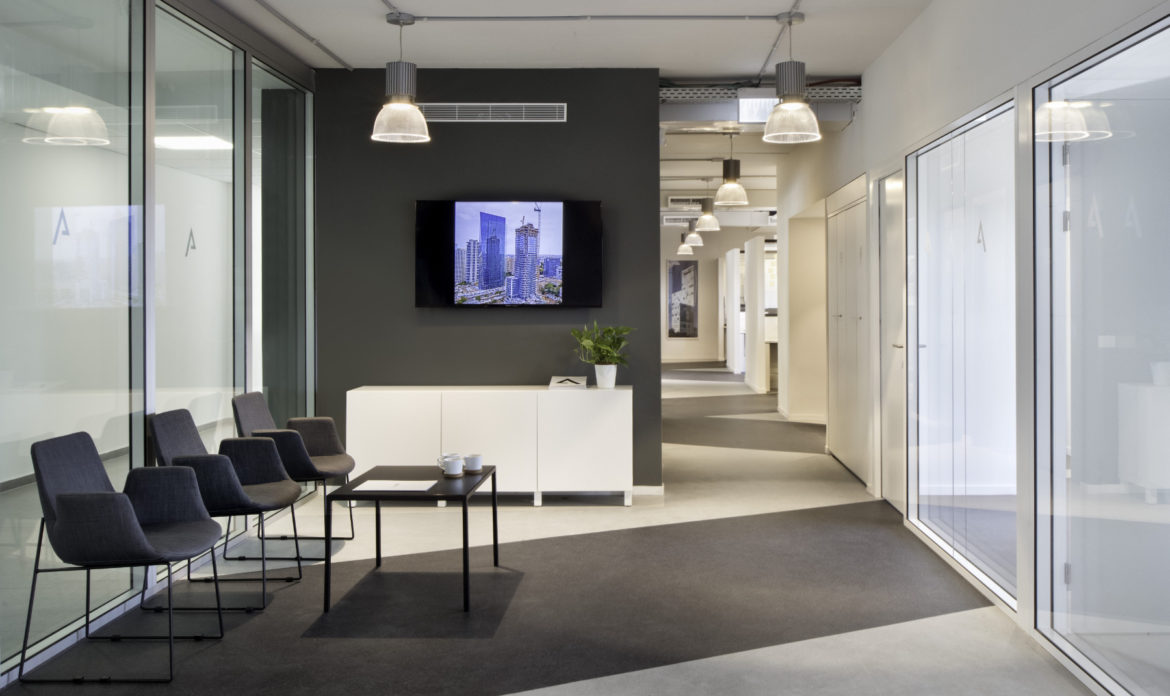 Architecture firm Peretz Architecture and yOOLOPP recently designed a new office for for engineering firm Alum Eshet in Yavne, Israel.
"The space was designed as an open space with 3 closed entities: 1 for the board room, 1 for the marketing department and 1 shared by the HR team and the service spaces (i.e. the restroom, kitchen and storage). The 3 closed entities continue with the rhythm of the main space and work in parallel to the open space, which contains the entrance hall, the planning team's workstations and the main corridor.

The service block was painted dark grey to differentiate it from the lighter main space and so it creates a different facade from both sides of the main corridor. Since the new compound is no longer in the same domain as the factory, it loses the production look and feel. Therefore, it was important to use elements of the production floor to represent the factory in the new space. For the main light fixtures, we chose high bay lights fixtures that are characteristic to industrial spaces.

For the same reason we chose to use industrial PVC flooring, which is very common in industrial spaces. At the same time, as a part of the rebranding process, the graphic style was changed into a monochrome geometrical style, the logo changed into black slanted letters on a white background. This inspired us to take the diagonal line and use it in the flooring pattern, by using two colours PVC.

Separating between the light-coloured space and the dark cube also relates to the contrast which exists in the new graphic language. To continue that design language, the signage is made of geometrical icons painted in contrast to the wall's tone.

We've decided to hang acoustic ceiling tiles which were placed according to the space usage. The plates have been positioned in a constant rhythm to the workstations and the hanging lighting elements.

The boardroom cube is designed as two meeting rooms separated by a moveable acoustic partition which, when open, creates a large boardroom. This enlarged room can hold up to 22 participants. The meeting rooms' tables are modular and provide agility in both size and space arrangement, thus allowing for the best possible use of the space according to changing needs."
The post A Look Inside Alum Eshet's New Yavne Office appeared first on Officelovin'.