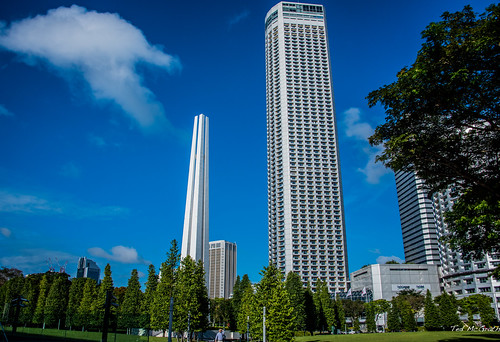 2019 – Singapore – Civilian War Memorial + Swissôtel The Stamford
2019 – Singapore – Civilian War Memorial + Swissôtel The Stamford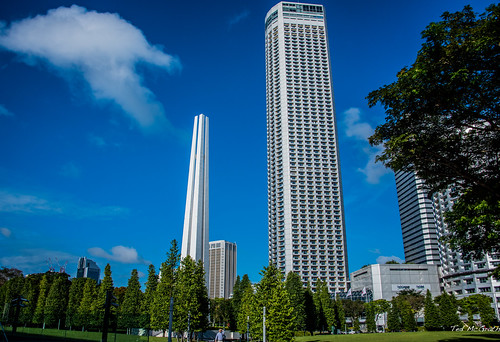 Image by Ted's photos – For Me & You
Two towers in central. On the left is the Civilian War Memorial (Chopsticks) in War Memorial Park and on the right the 741 foot high Swissôtel The Stamford.
WAR MEMORIAL PARK:
During the Sook Ching massacre that occurred in Singapore during World War II, mass war graves were dug to contain the bodies of civilians who were killed by the Japanese.
When the bodies were unearthed in 1962 in various places, the Singapore Chinese Chamber of Commerce and Industry (SCCCI) decided to gather the remains and create a memorial for them. The then Prime Minister Lee Kuan Yew set aside a plot of land at Beach Road for the building of the memorial and the War Memorial Park was created.
The monument was named the Civilian War Memorial but was affectionately known as the "Chopsticks" memorial with reference to its design. With four pillars each with a height of about 67 metres, the monument resembles two pairs of chopsticks.
SWISSÔTEL THE STAMFORD:
Swissôtel The Stamford, formerly known as the Westin Stamford, is a hotel in Singapore managed by Swissôtel Hotels & Resorts.
Designed by architect I.M. Pei, at a height of 226 metres (741 ft) it is one of Southeast Asia's tallest hotels. It is part of the Raffles City complex comprising two hotels, the Raffles City convention centre, Raffles City shopping centre, and an office tower.
Situated at 2 Stamford Road, the hotel sits above City Hall MRT Station.
The 5-star hotel has 1,261 rooms and suites, 16 restaurants and bars, Raffles City Convention Centre, and one of Asia's largest spas.
When completed in1986, the Westin Stamford was the world's tallest hotel building.
On 1 January 2002 the two Westins were sold to Swissôtel/Raffles Hotels and both hotels were renamed, The Westin Stamford becoming Swissôtel The Stamford and The Westin Plaza becoming Raffles The Plaza. When Raffles Hotels was acquired by Fairmont in 2006, the smaller hotel was again renamed, becoming the Fairmont Singapore.